Our vision
one.network's vision is to be the global leader in traffic disruption technology. Our mission is to transform the planning, management and communication of activities that affect road users.
We empower road agencies with a suite of operational tools to coordinate road events. Our relationships with GPS navigation systems create a direct communication channel to road users, resulting in a smoother, safer network where drivers can reliably navigate away from work zone hazards or other interruptions.
one.network is unique in that it facilitates reliable communication of road interruptions directly from local, regional, and highways authorities. Over 98% of UK road authorities already use our platform to coordinate, communicate, and manage their works.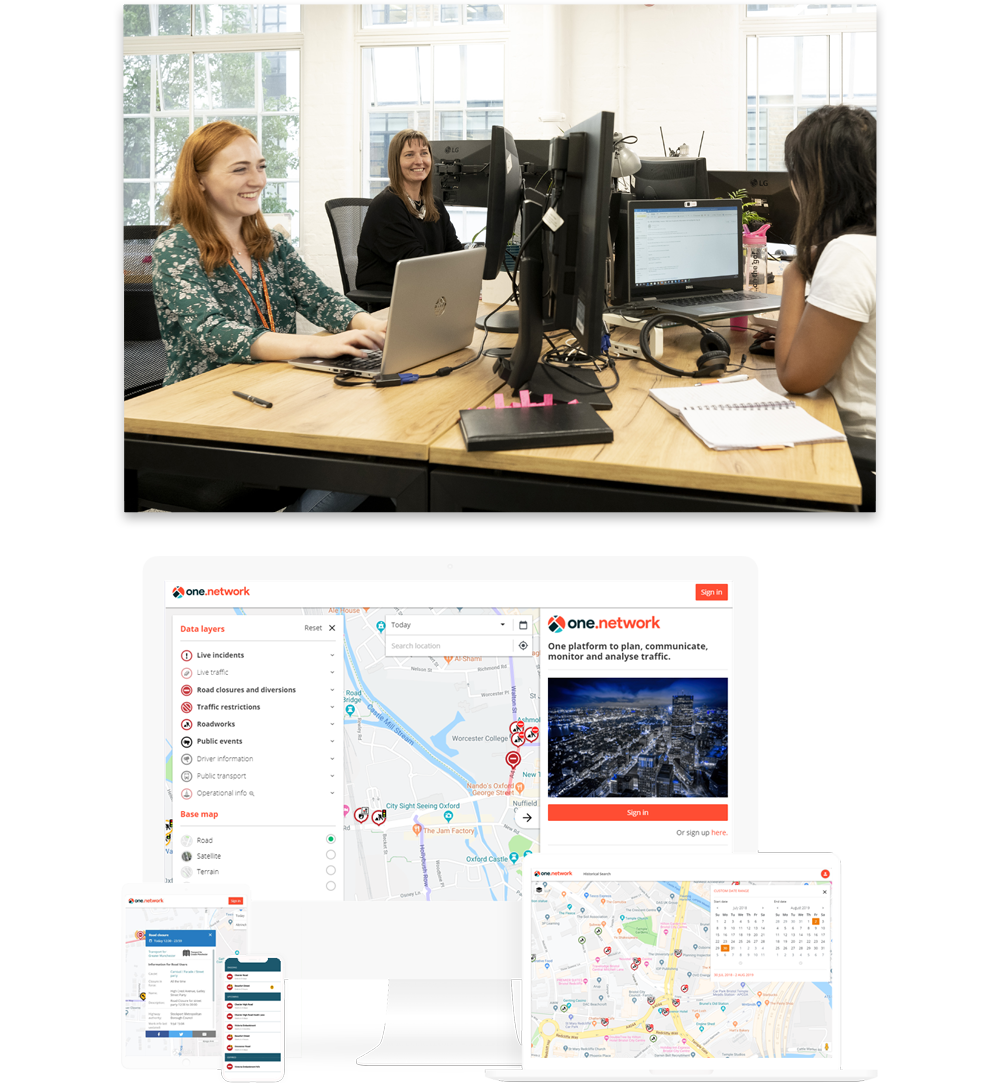 Our story
When one.network launched the roadworks.org website in 2012, we brought about a digital revolution to the management of roads across the UK by creating a national collaboration platform where every activity that has the potential to disrupt traffic could be planned and shared with all stakeholders.
Before one.network, roadworks information was siloed across hundreds of local authority databases,  road closures were communicated via notices in local newspapers and traffic authorities had no way of communicating live disruption information to sat-nav services.
Since then we have grown the capabilities of our platform, providing unique and ground breaking solutions such as the ability to monitor the impact of individual roadworks across the whole network in real-time and an app that allows road workers to transmit live road closure updates to sat-nav services such as Google Maps.
Market leading technology
In September 2019 we relaunched our platform, reflecting the whole network view that our system uniquely provides, spanning strategic and local roads, planned disruptions and live incidents, largescale road improvement schemes right through to local utility works and public events.
Today, 98% of highway authorities in England & Wales use one.network services, as well as most major utility companies, road contractors and event organisers.
In 2018 one.network received investment from leading private equity investor Bridgepoint, reflecting the ambition and confidence in our future growth as a leader and innovator in the mobility solutions market.
Upcoming event
Utility Week Live
17 May 2022
The NEC, Birmingham
Opportunities at one.network
We are always looking for talented people that can help drive us towards our goals. Find out more about our current opportunities here.