03 October 2022
Celebrating National Customer Service Week 2022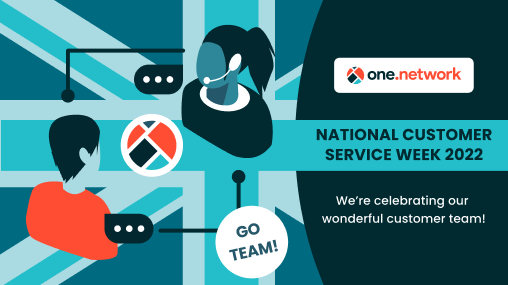 This week is National Customer Service Week 2022, so we wanted to take a moment to shine a light on our wonderful Customer and Training Team here at one.network and say a huge thank you for their dedication and commitment. 
The service they deliver is second to none. Over the 12-month period from August 2021 to August 2022:
98.8% of customers rated the service they received from our team as positive. 
In terms of resolutions, we don't stop the clock at any time. Our customers received an average first response of 24 minutes and achieved the resolution SLA 98% of the time. This includes resolutions that require hot fixes, product patches and new version releases for our platform.
We're incredibly grateful to have such a fantastic Customer function and it is evident from the abundance of positive feedback we receive regularly from our customers and members of the public, that the team and the first-class service they offer is truly valued and appreciated. 
Finally, we're excited to be welcoming a new Customer Success Manager to our team this week: Fee Kennardsmith. It's great to have you on board Fee!