15 March 2023
County Durham relies on one.network to manage the Lumiere light art biennial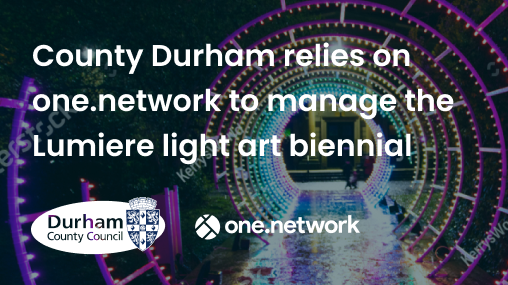 Alongside leading UK art producers Artichoke, Durham County Council is responsible for managing Lumiere – the UK's light art biennial – which has attracted over 1 million visitors since 2019. 
With the pandemic adding an extra consideration to the organisation of the 2021 event, the council implemented one.network's Events module to help plan Lumiere, aiming to minimise disruption and provide residents and visitors access to all the information they needed about the festival. 
Having the Events solution in place meant Durham could plot and publish all traffic management measures and points of interest associated with Lumiere on a dedicated, user-friendly map embedded into the council website for free public use. This enabled a:
Significant decrease in inbound enquiries from the public relating to the Lumiere event. 
Doubling of website hits by enabling the public to self-serve information.  
Reduction in query response time due to staff having a single, authoritative source of information to refer to and point towards, ultimately freeing up time for the council.