02 May 2023
A King-Sized Celebration: England plans a 263-mile feast in honour of Charles III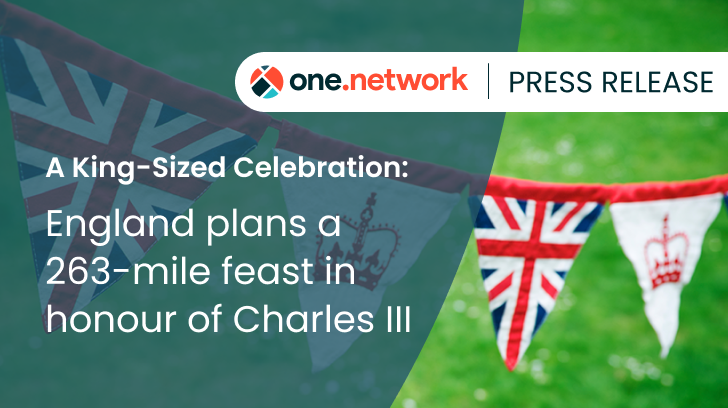 England is planning a whopping 263 miles of street parties to celebrate the upcoming Coronation of King Charles the 3rd. 
The country will be putting out the bunting en masse over the Coronation weekend, with a total of 3,087 official street party events* registered across 72 English local authorities, visible on one.network. 
End to end this patriotic party would stretch almost from Westminster Abbey to Lands' End as the crow flies, and it would take nearly three days to walk down just one side of the table, without stopping for cake! 
Hampshire and Kent are paired in first place as the most celebratory counties, with 251 official plans submitted each. BCP (Bournemouth, Christchurch and Poole) and West Sussex tie for second place with 180 each, followed closely by Devon with 146 plans. 
According to one.network's data, the most popular celebration day of the Coronation weekend will be Sunday, with 62% of parties, followed by Saturday at 27% and Monday 11%.
James Harris, CEO of one.network, comments: "It's fantastic to see neighbours and communities coming together to use their streets for parties to celebrate the crowning of our new King. Organising a street party is hard enough, but local councils should be given a huge hand for their great efforts in facilitating this country-wide celebration. With their hard work approving and managing road closures the country can party safely, whilst minimising disruption for road users." 
The Top Ten Local Authorities for Coronation Street Closures
Hampshire County Council - 251
Kent County Council - 251
Bournemouth, Christchurch and Poole Council - 180
West Sussex County Council - 180
Devon County Council - 146
Leicestershire County Council -141
Surrey County Council -141
Essex County Council -139
Northamptonshire County Council - 125
Oxfordshire County Council - 91 
The one.network platform equips road agencies, utility companies, and all organisations whose operations impact traffic with up-to-date information and tools to plan, coordinate and communicate seamlessly around road and street works across the UK.
The public can use the one.network map for free, to see who is responsible for what's happening on the road network and also create email alerts that warn of upcoming roadworks in their neighbourhood or on a commonly travelled route.