25 January 2018
Utility trade association - Street Works UK - embeds roadworks.org on new website
Street Works UK, the trade body representing utilities and their contractor partners, has embedded Elgin's roadworks.org tool on its new website.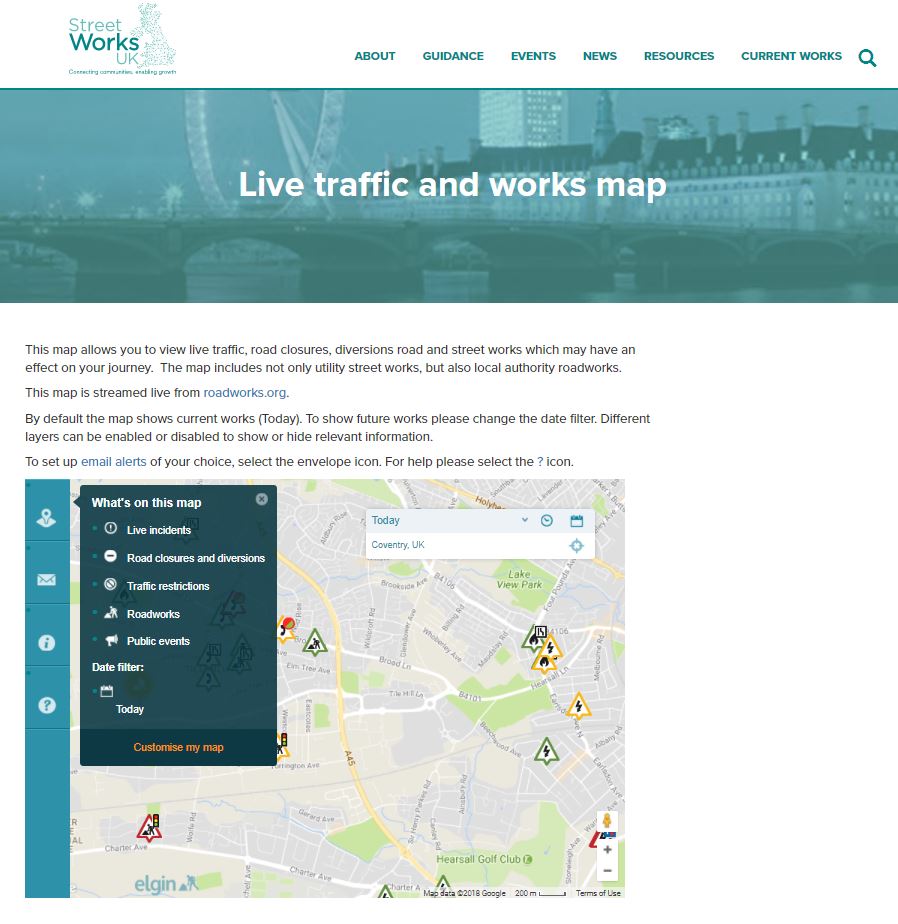 The map (see image & link here) provides information on the 2.5 million roadworks which occur annually across England & Wales.
Bob Gallienne, Chief Executive of Street Works UK commented,
"The millions of street works undertaken every year by our members maintain and deliver new infrastructure which is critical to improving UK productivity, competitiveness and balanced economic growth. By publishing near real-time information about all of our works, we are enabling utilities and their contractor partners and public bodies to coordinate works more effectively and keeping residents and the motorist informed."
Senior policymakers within the industry will also have private access via the Street Works UK site to the new roadworks.org Real-Time map – a joint venture with TomTom which tracks the actual impact of each individual roadwork on traffic slowdown. This service will build a picture to emerge of which types of works cause most traffic disruption and will help drive Street Works UK's objectives of ensuring that any disruption caused by essential investment works is effectively minimised.
About Street Works UK
Street Works UK is the UK's only Trade Association representing utilities and their contractors on street works issues, It promotes best practice, self regulation and a two-way relationship with Government and other relevant stakeholders. Street Works UK is also the utility arm of the Highway Authorities and Utilities Committee (HAUC(UK)), working collaboratively with roads / local authorities and national and regional governments to drive up standards of road and street works in Scotland, England, Northern Ireland and Wales. For more information, visit the Street Works UK website.