27 November 2019
Winners! - Street Works UK 2019 Innovation Award
We are very proud to announce that we have won the Street Works UK 2019 Innovation Excellence Award, supported by Skewb, for our Works Planning collaboration project with Yorkshire Water and Morrison Utility Services.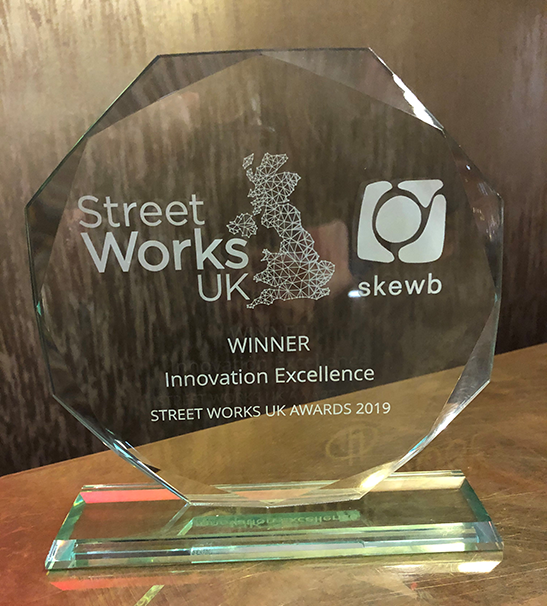 Truly understanding the environment around the works site before arriving is one of the toughest challenges in street works. The one.network Works Planning tool, developed in partnership with Morrison Utility Services and Yorkshire Water, brings together multiple data layers to give a holistic view of the surrounding area for better planning.
It enables streetworks teams to rapidly risk assess works sites early in the planning process prior to visiting site, enabling better decisions to be made around scheduling, permitting and safety. Getting more works right first time helps reduce aborts, re-plans, traffic management compliance failures and FPNs.
Since implementation it has seen
Over 35% decrease in the number of works being aborted, reducing overall delivery costs
38% increase in the number of works planned
Increase of 25% in operational productivity (jobs/day)
With wider benefits including
More jobs completed right first-time result in less impact on the road network/traffic congestion
More effective use of available data enhances the scope for collaborative work
Reduction of potential H&S incidents - better risk mitigation due to effective presentation of location and other data
See here for more information and to arrange a demo, please contact us.