Overview
This month we're excited to launch a new and improved experience for our smart risk assessment tool, Works Planning. 
What's more, the Works Planning tool can be freely used by operational users (with some limits) and all existing customers.
To launch the tool, just click anywhere on the one.network map and hit the 'Works Planning' button. 
Following the release on 16th June, we recommend that you sign out of one.network and sign back in with your work email address to ensure you can access Works Planning. After this, if you are still unable to access the tool, please contact us at useraccount@one.network so that we can assist you. 
What is Works Planning?
Works Planning enables users to remotely risk assess work sites early in the planning process, reducing the need for site visits.  With this tool, you can quickly identify common issues affecting the viability, cost, timing and safety considerations for an upcoming project.
Works Planning brings together crucial planning datasets under one roof, including the built environment compliance information such as Section 58s, the NSG and speed limit data, plus proximity factors such as schools, hospitals and fire stations. 
To begin a smart search using Works Planning, simply right-click anywhere on the map to return information within 200 metres of your point or draw a line or area with the provided tools and Works Planning will present all the critical information in an easy-to-use window underneath the date picker in the left-hand tool bar.  
If your organisation does not currently subscribe to our Planning and Coordination package, Works Planning will display information from the following datasets: 
NSG Roads (Street Names and USRNs) 
Section 58 restrictions 
Winter gritting routes
Bridges and Restrictions
Level Crossings
Lane Rental Scheme
Public Transport
EV Charge Points
Weather 
Our Planning and Coordination customers will continue to have exclusive access to the following Works Planning Premium Datasets: 
Please note, for existing users of Works Planning, to make the Works Planning tool easier to access, you will no longer need to select Works Planning from the module drop down menu. Instead, it will now be accessible by right-clicking anywhere on the one.network map. This should make it simpler and quicker to use Works Planning wherever you might be on one.network.  
What else is included in one.network version e2.24.0?
one.network Map
Street Manager has introduced two new optional values for active permits: Current Traffic Management and Most Impactful Traffic Management. When selected on Street Manager, these values will now display on callouts on one.network.   
Plan Share
Plan Share is a one.network module which allows utilities, contractors and highway authorities to submit, accept and reject traffic management plans and TTRO applications within one.network. 
If you are a customer of our Plan Share module, you will now be able to set up individual email alerts for Plan Share status updates yourself from your 'My Account' page on one.network.  
Previously, to set up email notifications for specific individuals when a traffic management plan was submitted, rejected, accepted or granted, users were required to get in touch with a member of the one.network team. 
Now, you can set up these alerts for yourself in just a matter of seconds. 
Click the profile icon next to your name located to the top right of the one.network platform and choose 'My Account' from the drop-down menu.
Select 'Application Settings' from the left-hand menu. 
From here, you'll now be able to enable email notifications for plan status updates to the email address you use to log in to one.network.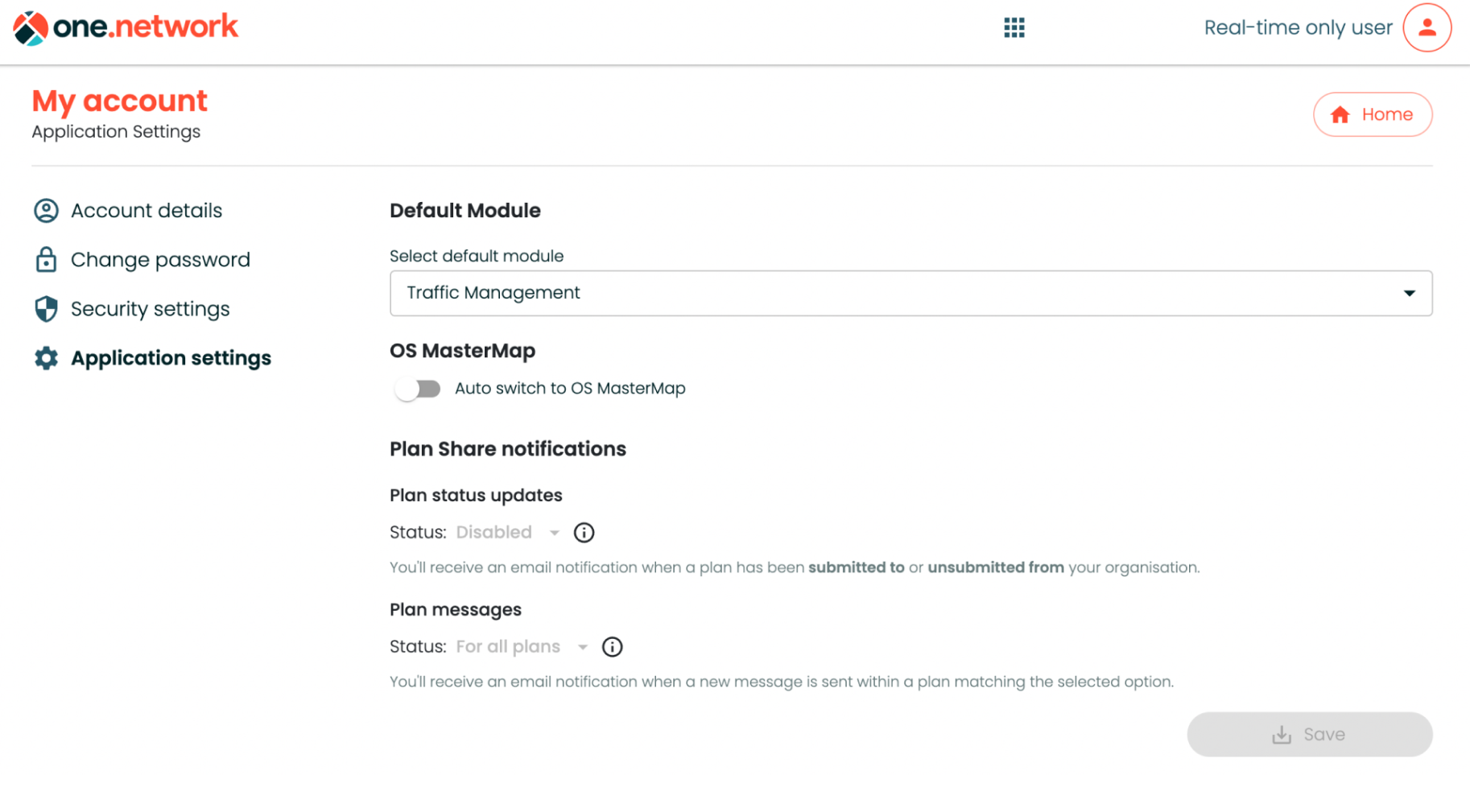 We've also made some small improvements to the contents and appearance of the email notifications when they appear in your inbox.  
If you have any questions on anything included in this release, please contact support@one.network