What's new in one.network version e2.11.0?
Overview
With the Commonwealth Games coming up, we've worked to prepare one.network to manage them. As one of the biggest events in the country, the Games require an enormous amount of coordination and planning, and one.network is proud to equip traffic managers, streetworks teams, and contractors with the best tools for the job.
This release includes a layer dedicated specifically to the Games, allowing every organisation that works on the roads around Birmingham to get the full picture on diversions and disruption in the area.
As you'll see under the Live Link section, we've also introduced a new functionality: Street Manager works start and stops can now be initiated from one.network, combined with updating road closure statuses in real-time.
Here's a bit more about the other exciting new changes we've made to the one.network platform.
The map
The foundation of our platform, the one.network map, has had some changes and improvements including the Commonwealth Games layer. Here's what else is new:
New Ward and Electoral Division layers for the UK, adding to our existing boundary layers for highway authorities, district authorities, and parishes.
Improved roadworks email alert headings, which now contain road and area information for Traffic Management entries — making it easier for the public to understand where works are taking place and if they're likely to impact journeys.
Route Manager
Our Route Manager module gives users the ability to create, adjust, and manage bus routes and key route networks in real-time.
In this update, we've introduced a new, more powerful way to search for routes using direct field filters. This means you can now search filter very precisely when you know what you're looking for. For example, if you search 'name:01', any routes which contain '01' in their name will now display. Similarly, if you search 'operator:Stagecoach', any routes operated by Stagecoach will display.
Some other big changes in this update:
The new ability to close and divert circular routes for a fuller, more comprehensive route management experience.
Users can now manage email contacts and groups within Route Manager for quick and easy permissions control.
Documents and email geographical template tags, such as road names and USRNs, are now available for routes created within Route Manager.
Live Link
Live Link is our real-time communication module, allowing users to transmit road closure updates to all major sat-navs as they happen. In this update, we've added some new features — most excitingly, the ability to start and stop road closures from inside Street Manager.
When creating a report with data from Live Link, users can now include emergency closures and an identifier that lets highway authorities determine whether it was their own closure, or one managed by a utility company
As above, users can now configure their account to start and stop works in the Department for Transport's Street Manager product, as soon as the closures are updated via Live Link.
Route Monitor
Finally, our development team have made some improvements to Route Monitor — our module for monitoring the performance of key routes on the road network.
Now users of this module can compare a route's current travel time to its historical travel time on the graph.
This means Network Managers can easily see when travel time on a route is slower than it has been historically, work to identify the cause of the delay, and mitigate it.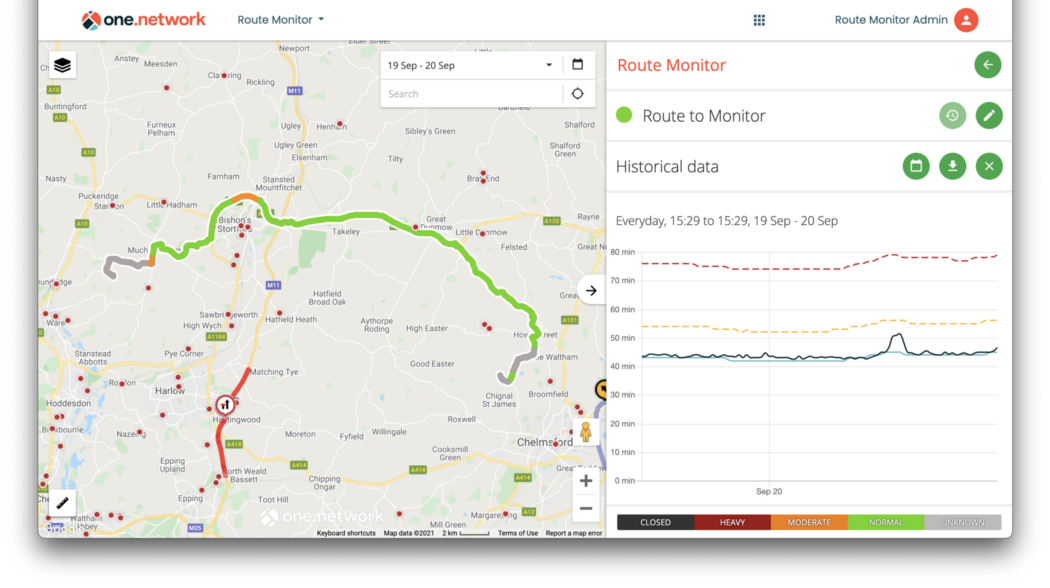 If you have any questions about this update, or are interested in hearing more about the modules we've mentioned, please contact the team. For the latest news, be sure to follow us on Linkedin or Twitter.