What's new in one.network version e2.10.0?
Overview
On the 23rd of September (2021), we released another one.network update: version e2.10.0.
New tools for everyone
For all the users of our one.network map, we've introduced some exciting new changes and improvements.
Level Crossings
We've introduced a brand new data layer to one.network: level crossings. There are almost 7,500 level crossings in the UK, and historically they've been the sites of dozens of collisions – many lethal.
That's why we're boosting their visibility across one.network, letting our users and customers alike gain a richer understanding of railway/road intersections. Our view is that greater visibility of level crossings, and their surrounding traffic, has the potential to improve road safety across the nation.
Level crossings will be available in the existing menu of map layers on one.network, and customers of the Works Planning module will be able to incorporate them into their risk assessments and traffic management plans too.
Bus stops
For customers who work in highway authorities, utility companies, or public transport, a completely new level of information is available about bus stops. Bus stop IDs will now be visible on all relevant public transport callouts on the map, allowing you to coordinate routes and diversions with greater reliability, particularly where bus stops share similar names.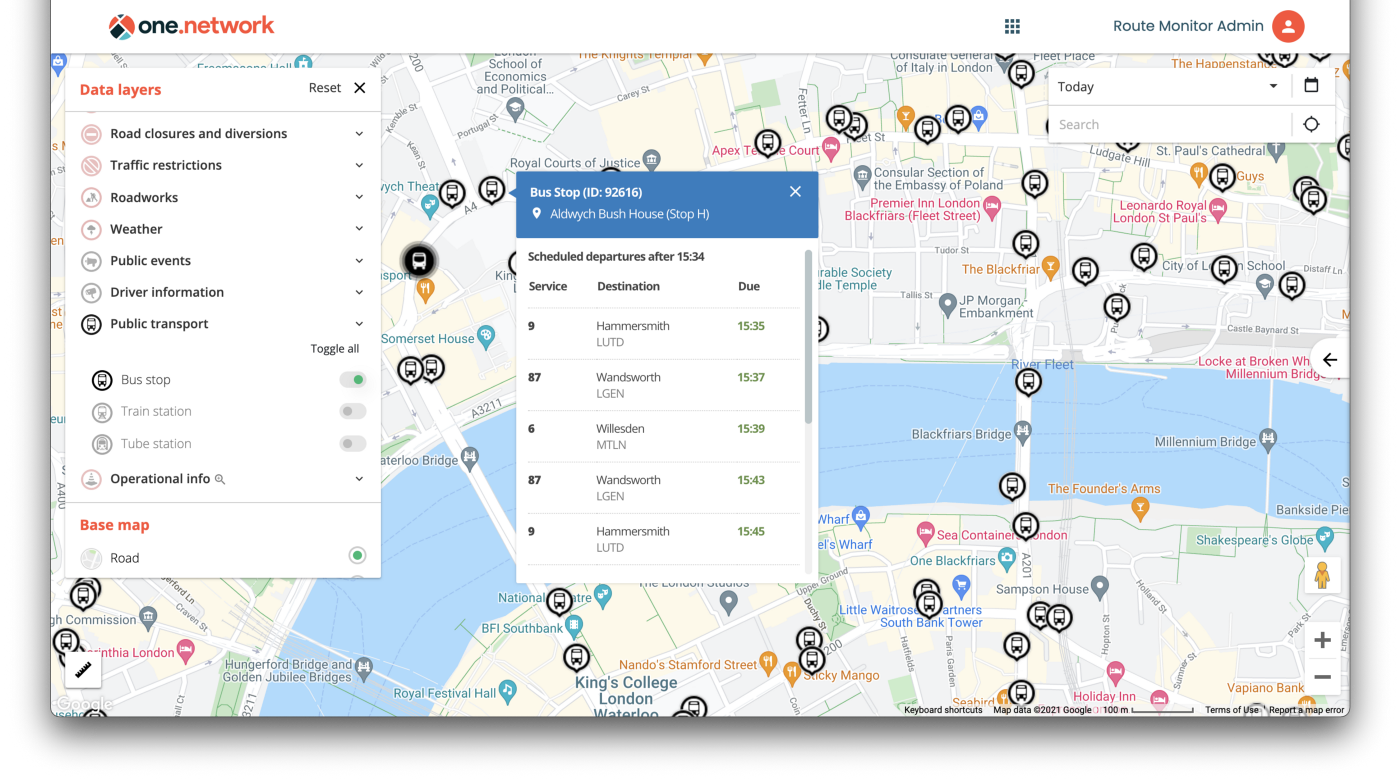 New tools for our customers
Some of the information below will be specific to different one.network modules. If there's any functionality you'd like to have and are currently missing, why not get in touch? We'll give you the tour.
A change to how we manage permits
Previously, traffic management plans in Traffic Management, clashes in Route Manager, works content in Content Management, and a number of other items were associated with Street Manager works.
We've now upgraded our systems so that all those items are linked to works permits in Street Manager instead. Why? It's simple: one set of works can have multiple permits, so displaying only the active permit (as we've done in the past) sometimes means future permits can't be seen when examining works. Doing it the old way also means that once a permit expires, it might be replaced, and so will be missed out of historical data.
Now, customers with access to our Historical Map module can see the full history of permits relating to each set of works.
We've also made it possible to search for road or street works by permit reference, so it's even easier to swap between other systems and one.network.
Route Monitor
Route Monitor, the tool for highway authorities and utility companies who want to track journey times and congestion on key routes across their operational region, received a pretty big upgrade in this release.
Route Monitor has, until now, been our real-time alerts and road monitoring tool. It still does all that, but we've incorporated a new dimension: historical data on route performance. That means you can now use it to track journey time reliability, and assess the impact of disruption on journey times — getting a clear picture of how well your most important routes are performing.
We store all data for the life of the route, and you can now interrogate it on-demand, giving you insight into route performance and health across a period of time: essential if you're managing works on important roads.
Here's what that looks like in practice.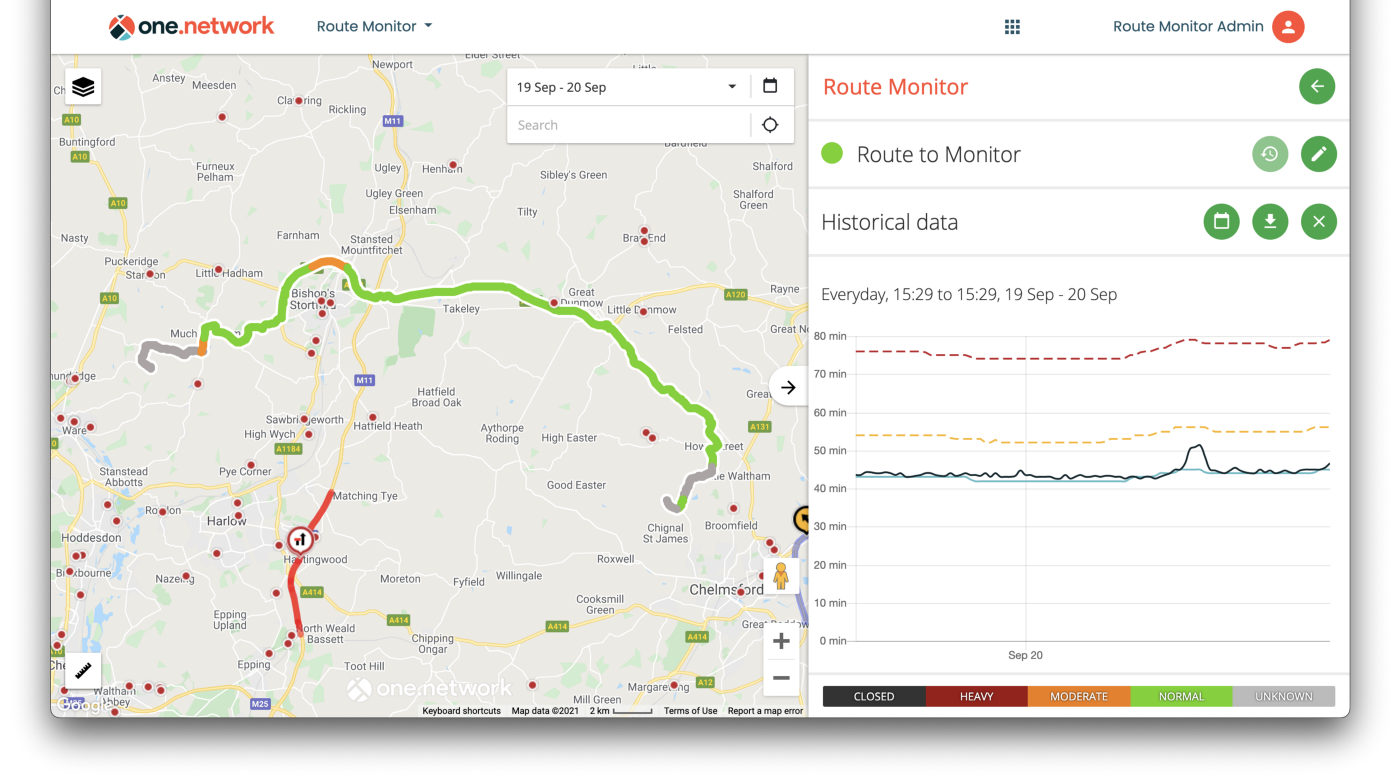 Route Manager
Previously, Route Manager only allowed you to create diversions in the middle of your transport routes. But we know that in practice, disruptions can happen to any part of a bus or transit route. That's why we'll now allow you to create diversion routes with different start and end points, for situations in which a journey's beginning or completion is disrupted too.
Think of it like this: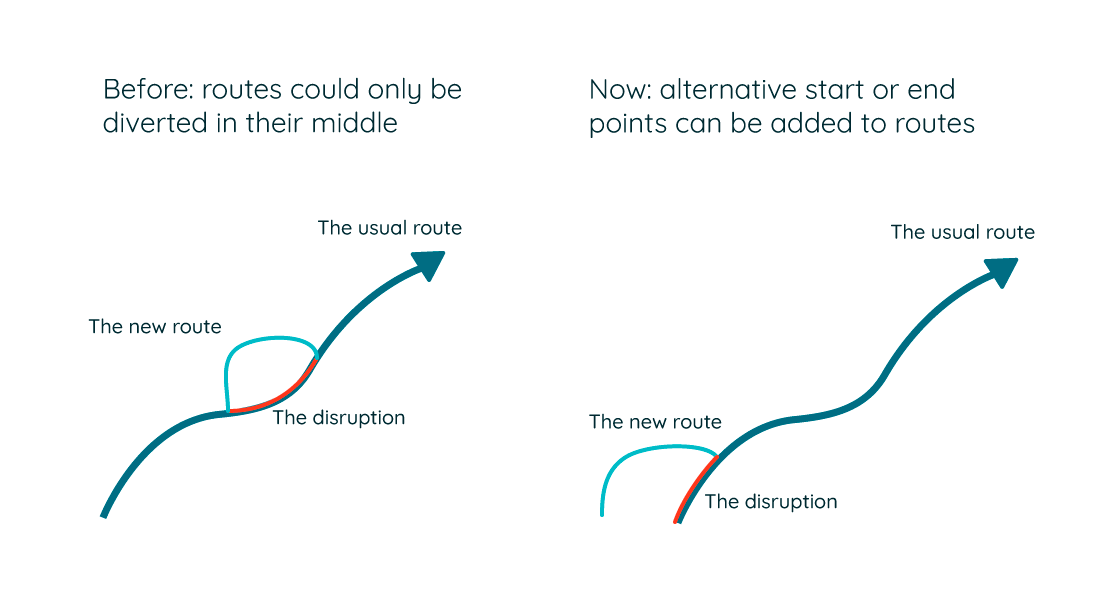 This should help with creating more effective diversions, ensuring smooth journeys for road users and bus operators alike.
Historical Map
Another important change in this update is the streamlining of Historical Map, our module that lets customers look back in time to see historical works or disruptions to the road network. It's particularly useful for those looking to satisfy liability claims, support reinstatement failure claims, or analyse their previous works to guide future planning.
Instead of appearing in your drop-down list of modules, customers with the Historical Map module will now be able to access its functionality through their existing modules for an even sleeker one.network experience.
Live Link
Finally, we're updating our Live Link mobile app for both iOS and Android devices. This will be version 2.2.1, and available in app stores from the 30th of September (2021).
What's coming:
When creating or managing a closure, if you move the map around you can now easily re-centre the map on the closure.
We've improved the display for emergency closures, bringing it more in line with the rest of the app experience. 
If you have any questions about this update, or are interested in hearing more about the modules we've mentioned, please contact the team. For the latest news, be sure to follow us on Linkedin or Twitter.