Overview
At one.network, we're committed to continuously evolving and innovating our platform based on the needs of our customers. 
In this release, we're introducing two customer-requested developments to help streamline your workflows and improve planning efficiency.  
1. Enhanced date functionality on the one.network map
You can now adjust the entire map's date range by clicking the calendar icon located at the top of the callout boxes which open when you click on a road event marker. 
For example, if you're viewing roadworks scheduled from July 10th to August 24th, 2023, and you want to know what other road events are taking place in the same area during that period, you can just click the calendar icon at the top of the callout box. The map will instantly update to display all planned road events within that same date range. 
Using this functionality, coordinating works on one.network is even quicker and easier.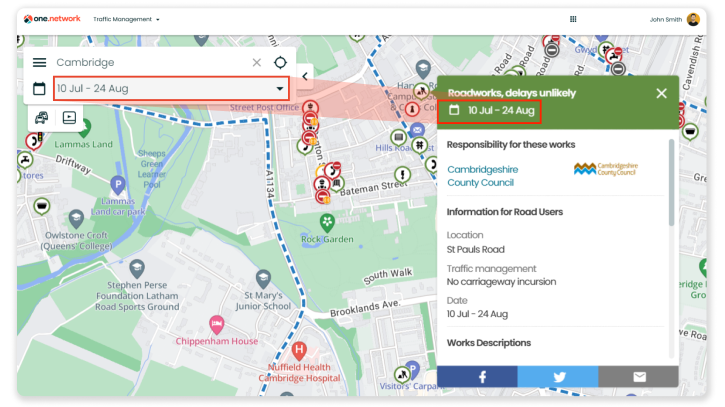 2. Improved Live Link Reports
Previously, when generating a Live Link report from within the Traffic Management module, users could only access past road closure data. 
Now, Traffic Management Admins can export Live Link reports that include information about closures scheduled for the future as well.*
This enhancement enables a simpler, more comprehensive planning process, with all your road closure information located in one place. 
*If you do not have Admin permissions assigned for the Traffic Management module and require them, please speak to your one.network Community Admin at your organisation. 
Thank you to our customers who have shared their valuable feedback with us. Your input is greatly appreciated and allows us to enhance the platform for the benefit of all our subscribers.